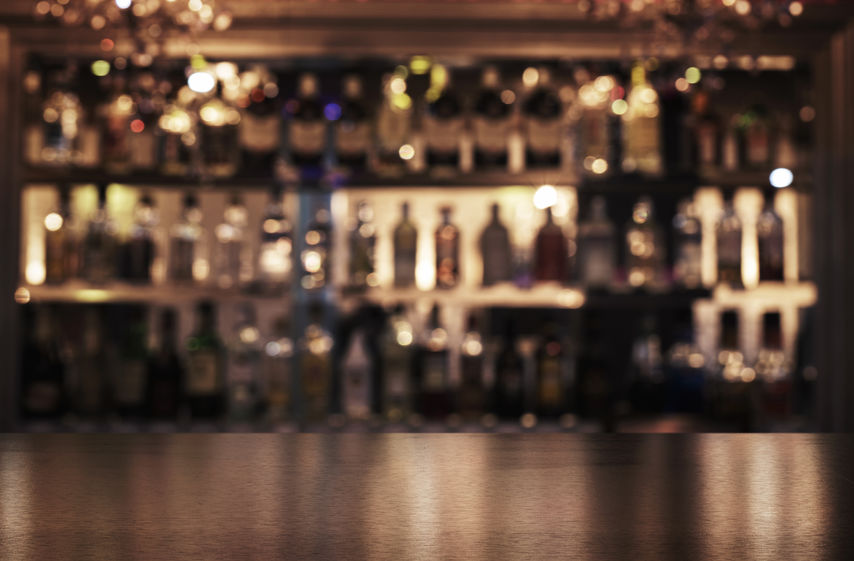 The advantages of a home bar are obvious. It provides a convenient space for you to entertain your guests, serves as another area of the home where you can relax and unwind, and takes the look (and value) of your space to a sophisticated, elevated level.
Home bars are becoming more and more popular, making it much easier to find inspiration for creating your own and a wider selection of bar furniture and accessories to complete your setup. To ensure you get the most out of your bar, in terms of both design and function, use these tips below to start your planning and bring your new entertainment space to life!
1) Choose your location carefully.
Theoretically, you could make a bar work in almost any area of the house—the basement, living room, dining room, back patio, etc. The key to choosing the right location is to consider both technical and functional factors when making your decision.
First, think about your practical bar needs, including electricity for lights and appliances, plumbing for sink and any fridge/freezer connections, ventilation, and physical space. Then, consider your functional needs. Where do you usually entertain friends? Do you prefer to hangout inside or outside? Do you want your bar to be close to other features of your home, such as a media space, bathroom, or pool/hot tub, for example? These are all questions you need to answer before you even start planning your design.
2) Set a budget.
It's easy to get caught up in the fun of building a home bar and go overboard with luxury features and materials. That's why it's best to determine how much you are willing and realistically able to spend from the beginning. You're more likely to stay within your price range this way and create a home bar that won't break the bank.
As you're budgeting for your bar, take into account what you'll need to buy first. For example, work you'll need to hire out for vs. work you can do yourself, any building materials, furnishings, accessories and décor, appliances, and bar supplies are all items you will need for a functioning home bar. Then, move on to the features you want your home bar to have, listing them from most to least important. Allocate your remaining budget after covering your needs to your top wants.
3) Decide on what style you want to go with.
There are a lot of different directions you can go when it comes to the design elements of your bar. You could go with something modern, traditional, elegant, minimalist, rustic—the list goes on and on. Whatever style you choose, it should be something that works cohesively with the rest of your space but still stands out.
An at-home bar should be the focal point of a room without clashing with any of your other interior design elements. Don't be afraid to get creative and add personality. Experiment with unexpected decorative accents, bold color schemes, and a mix of finishes and materials to create an inviting, eye-catching space.
4) But don't sacrifice function for aesthetic.
When planning out your home bar design, keep in mind the elements you'll need to make your bar as functional as possible too. Consider things like space for ample seating, a bar shape and size that provides enough space to work, and storage for your supplies.
You should take advantage of vertical space to optimize the layout of your home bar. Wall cabinetry or floating shelves, for example, are perfect for creating an attractive display of your spirits or barware that doubles as storage.
5) Be smart about the materials you use.
The materials you use to build your bar should be selected carefully. You want them to be attractive, but also durable. A bar is very similar to a kitchen in terms of functional needs, so consider what you would and wouldn't use in that type of space. Your furnishings need to be able to withstand wear and the damage that often occurs in eating and drinking spaces (spills that stain, acidic citrus juices, moisture buildup, chopping garnishes, prepping snacks).
It's best to use hard, sturdy materials for your counter surfaces, such as hard wood, quartzite, or granite. Save the more vulnerable materials, such as glass, soft woods, or vinyl, for things like wall accents or decorative features.
At Sherwood Studios, we carry a wide selection of home bar furniture to help you serve and enjoy your drinks in style. You'll find bars, carts, stools, lighting, and decorative accents for every style and vision to create a bar space that is uniquely yours. If you need help planning, our interior designers can work with you to make your ideas a reality.
Browse our furniture collections online today or get in touch with our team to make an appointment at our West Bloomfield showroom!