Whether your company has moved towards telecommuting (at least part-time) or your children are in need of a space for arts, crafts and algebra homework, you may be looking to add a multi-purpose space to your home. Oftentimes spare bedrooms and laundry rooms are the areas of the house considered for this transformation, as they aren't in use on a constant basis like your kitchen and living room are.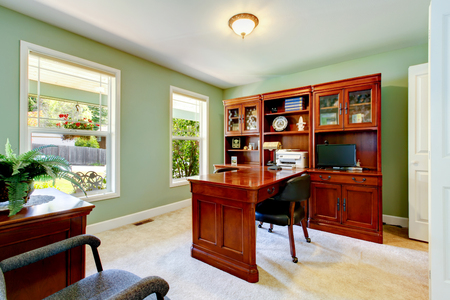 There is so much potential when it comes to developing a multi-purpose space, but designing this area can be tough. Luckily, Sherwood Studios has some tips that will help you make the most of this busy new space in your home.
Consider Compatibility
When combining a few different areas of a home into one room, it is important to consider their compatibility. For example, adding a desk and office supplies to your spare bedroom is typically a successful combination, because it is unlikely that you will have guests stayin
g at your home on a workday. Similarly, adding a workspace to your laundry room where your children can create school projects is a good option, as it will provide them with both a quiet space where they can focus
and the cleaning supplies they will inevitably need right on hand.
Increase Storage Space
Storage is important in every room of the home, even more so in a room that has multiple purposes. It is all too common for multi-purpose rooms to become catch-all spaces for random object. To prevent this from happening, we recommend choosing shelving and furniture pieces that maximize storage. This way, you will be able to keep your multi-purpose room organized and clutter free.
Now that you are ready to get to work designing your multi-purpose room all that is left to do is find the   right furniture to suit your needs. From tables and chairs to home offices accessories, Sherwood Studios offers a wide array of quality home furnishing options for homeowners in the West Bloomfield, Michigan area. We also offer interior design services, perfect for assisting you to develop a multi-purpose work that is both functional and stylish. For more information and to schedule an appointment with a member of our interior design team, please give us a call at 248-855-1600.