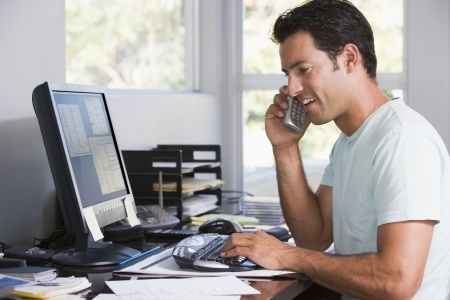 Do you have an extra room in your home that you're not sure not do with? If so, you should consider adding a home office to your abode. Here are four reasons why it's a smart endeavor.
Convenience. Who wants to have to drive to work late at night or extra early in the morning when you can hammer out extra work right in the comfort of your own home? Rather than having to get yourself ready and appropriately dressed for work, you can simply skedaddle to your home office in comfy clothes, and finish whatever work you need to complete.
You'll see an increase in productivity. Sure, at some point it's smart to fully release yourself from the grasp of your workplace, but if a home office will help you become more productive, and the promotion, partnership or ability to run your own successful business may be closer to you than ever before.
Versatility. Your office can serve as more than just a place to get your work done; it can also be a place where you have a drink with a client; meet with someone that handles your personal affairs, such as your tax guy or girl; or it can simply be the place you go to unwind after a long day and collect your thoughts.
You can be around for the moments you'll never get back. If you're always stuck in the building at work, you may end up missing many special moments around your home that you'll never be able to recoup. Whether it's family dinners or spending time with your significant other and/or children, a home office will allow you to be around for those amazing instances.
If you're in the West Bloomfield, MI area and are in need of home office furniture, Sherwood Studios will help you find just what you need. Stop by the store or contact them for more information.