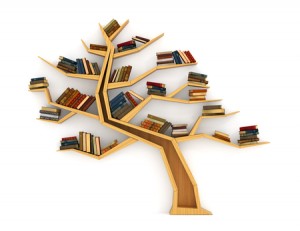 Books – they're not just for reading anymore. If you're a bookworm or library enthusiast, they also make great home décor! They give your home a cozy look and project a sophisticated air.
Read on to learn how to creatively decorate with books:
Curate a coffee table stack
Make your living room look inviting with a stack of well-chosen books in appealing colors. Guests will love having something to flip through when they sit down. Art and travel books work especially well for this idea.
Color-code your shelves
Turn your library into a rainbow when you organize your books by color.
Install shelves in unexpected places
Try putting set-in shelving under a stairway or over a doorway to maximize space and give your home a touch of the unexpected. Bonus: if your fireplace is unused, you can put books there, too!
DIY furniture … made from books
Old books (hint: check your local thrift store) can become part of totally unique furniture. Try using them as the legs of a coffee table, a faux-headboard or the base for a lamp.
If you're looking for some furniture to complement your book-themed décor, check out the wide selection we offer at Sherwood Studios. We have pieces in a broad spectrum of styles, from modern to classic, at a variety of price points. What's more, we proudly offer full interior design services to homeowners in the Oakland County area. Call us today at 248-855-1600, so we can design the book-lined spaces of your dreams.