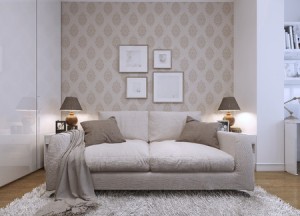 Your sofa is one of the most important furniture purchases you'll make. The time you'll spend sitting on it—reading, watching TV, visiting with friends and family—makes it worth putting some serious thought into your sofa choice.
Should you go with a leather or fabric sofa? Here's our handy guide:
Choose a leather sofa if …
You want your room to feel extra-stylish, whether you go for a sleek, modern look or a vintage feel.
Someone in your family suffers from allergies. Leather sofas don't harbor allergens like dust and pet dander.
You don't want to clean your sofa often. Leather sofas typically don't need more than a bit of dusting and a quick wipe. Fabric sofas require more maintenance, including yearly steam cleaning.
Your family is spill-prone. Leather sofas, especially in darker colors, don't stain as easily as fabric sofas.
Choose a fabric sofa if …
You're on a budget. Fabric sofas are usually less expensive than their leather counterparts.
You want a bright color or bold pattern.
Coziness is a priority. Fabric sofas are softer, and will feel warmer even when the room is cold.
Now that you've decided whether to purchase a leather sofa or a fabric sofa, check out the selection available at Sherwood Studios. No matter your budget or style, we've got the right sofa for you. Need help furnishing and decorating your home? Consider our full interior design services. Call us today at 248-855-1600 to get started.