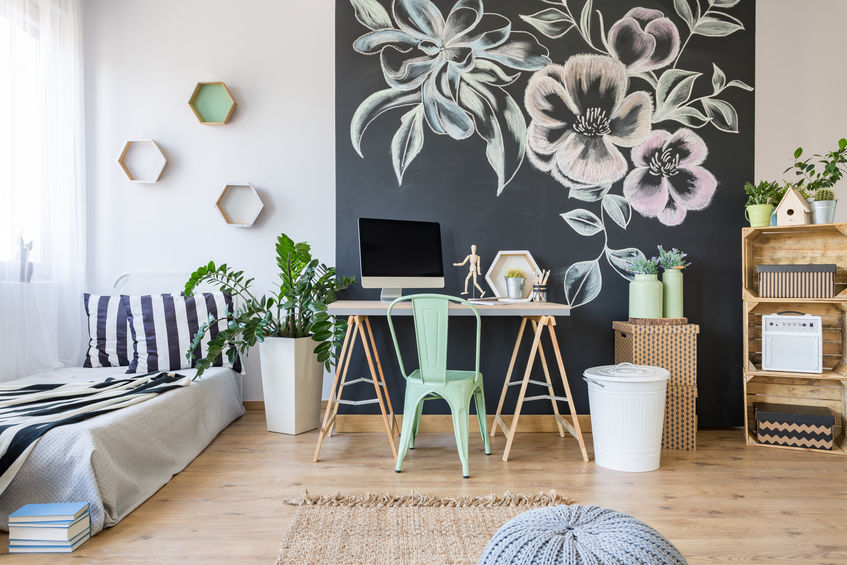 With spring in the air, floral prints are coming out of hibernation and creeping back into stores and magazines. Floral prints can be tricky to work with, and many people overdo them, unintentionally creating a tacky aesthetic. They have a reputation for being associated with older home styles. Country kitchens tend to use florals on the wallpaper, Victorian styles have floral prints on everything, and retro spaces often go for artsy floral prints.
Although floral patterns can be difficult to implement, they can be a classy addition to any space, even in modern interior design.
Here are a few simple ways to bring some tasteful floral patterns into your home without going overboard!
Pay Attention to Color
Mastering color in interior design is a journey on its own, but when it comes to implementing floral patterns into a modern style, it can go one of two ways: bold and sassy or neutral. If you go for a bold color, use it as an accent item. For instance, you might do one bathroom wall with bold flowers while leaving the other walls neutral. Combining florals with neutral tones can give off a more modern sensibility. You can also incorporate the colors from the floral print into the rest of the room as smaller accent pieces or use bold flower prints on items like throw pillows.
Focus on Scale
Another key aspect is the scale of the floral print. If you are using wallpaper or a bedspread with a floral print, the print is on a larger scale. If you have some small floral accents on the headboard, they're on a smaller scale.
If your floral print is larger scale, you'll want to design the rest of the room to have a clean look using solid colors so that nothing clashes with the floral print. Smaller-scale floral prints can get away with being used across similar items throughout the room, like different pillows or vases in the chosen print.
Think About Pattern
There are several dos and don'ts for mixing patterns, but when it comes to floral prints, you have a wide variety of patterns to choose from. This can make decorating with florals feel like a daunting task, but you usually want big and bold floral patterns for a statement look and smaller flowers for a more accented look. If you go for a big and bold print on an accent wall, it should have close-ups of large, detailed flowers. Smaller prints work well on pillows, vases, and window treatments and should be more abstract.
Make it Match
Try picking your favorite floral pattern and repeating it throughout a room. You can match the wallpaper with curtains and upholstered pieces for a bold look or choose just a few key furnishings across the room for something more subtle. If going all-out with florals isn't your desired look, consider using a single motif as the centerpiece of your room. Amongst the solid and neutral colors of your space, a floral print can feel like a piece of art. It can add just the right color and texture to a room without feeling overdone.
If floral patterns are calling your name, but you're having trouble implementing them into your space, our interior designers at Sherwood Studios can help. We offer various interior design services and have the knowledge and resources to transform your space into a true work of art. From bedroom design to your home office, we have you covered.
Call us today at (248)855-1600 to learn more about our interior design services!