Fall has finally begun, which means we are heading towards the busy holiday season. This means family coming in from out of town, and more people entering your home. Get ahead of your nit-picky relatives by beautifully decorating your home for the season with these tips.
Here is how to create a welcoming and cozy environment your guests will love to visit:
Porch and Entry Hall
Make your front porch warm and inviting from the chill outdoors. Add a decorative touch with pumpkins and other autumn-themed décor and set your lights on a timer, turning on as the sun sets each evening. This way, friends and family will feel welcomed no matter what time they arrive for the holiday festivities.
Also tidy up the entrance to your home, making room for the extra coats, boots and cold weather accessories that will accompany your visitors. Clear off coat hooks, set up a shelf for shoes and add a basket for your family to place their hats, gloves and scarves in. An organized entry will make your guests feel welcome from the moment they arrive and help to keep your home clutter-free throughout the busy holiday season ahead. Because Fall weather can be unpredictable, you may wat to use a vinyl rug cover to protect your rug and floor from rain and muddy shoes.
Bathrooms
Stock up on all the essentials before your loved ones come to stay for the holidays and give the guest bathroom a good scrub. Since this is a room that may not see much use, now is the perfect time to restock towels and add a new bar of soap to help make your guests feel at home while they visit this November and December.
Living Room
Create an intimate atmosphere in your living room this fall by placing a warm throw blanket over the arm of the couch and adding a bit of extra light. With the sun setting earlier each day, an extra lamp and some well-placed candles can add to the cozy ambience.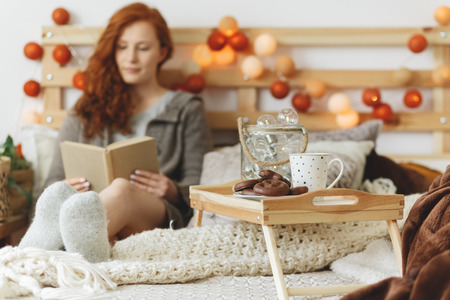 Bedrooms
To prepare for company this holiday season, freshen up guest bedrooms, swapping out the current bedding for fresh sheets and a comfy quilt for the cold weather. Place an extra blanket on the end of the bed as well, to ensure guests will be cozy throughout their stay.
Make your home come to life this holiday season with some help from Sherwood Studios. A full-scale furniture store and premier interior design studio in West Bloomfield, Michigan, we can make your house a home no matter what your decorative taste. Browse furniture options online and contact us at 248-855-1600 to set up an interior design consultation today.