Many people love sprucing up their home, but it can get expensive to totally redesign every room, especially if you love to constantly change things around. There are some simple solutions to updating your home décor that won't take up too much money or effort.
Here are some suggestions on simple home décor updates that can help improve your space: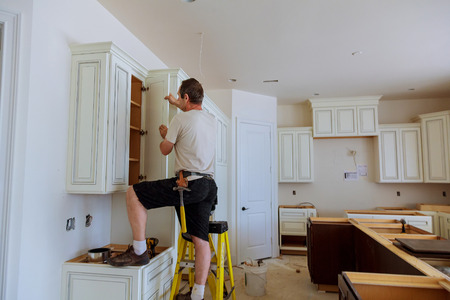 Update Your Cabinets
Most kitchens consist of a lot of cabinets. If you're unhappy with your cabinets, you're likely unhappy with your kitchen. Consider painting your cabinets to give them a brand new look and change the appearance of your entire kitchen with one project. If you're not looking to do a big project, consider just changing the hardware on the cabinets. Choose knobs that are colorful or unique for a small detail that all guests are guaranteed to notice.
Paint Your Living Room
A fresh paint job is the perfect way to update your home without breaking the bank. It can also transform the way a room looks completely. If you are satisfied with your current furnishings be sure to select a color that compliments your existing furniture and décor. Neutral tones like green, grey, off white, beige, and black are very popular tones for living rooms and other common areas. These colors are so popular because of their versatility. If you would like to demo a color before painting your living room or running out to buy a bunch of different paint samples, check out PPG's Visualizer. Simply upload a photo of the room you would like to paint, and they will digitally apply the color to your wall!
Switch Up Your Furniture
There is a good chance that your furniture is the focal point in most rooms, even if you're unaware of it. If you can trade out an old chair and replace it with a new statement chair, you can give the space a whole new look without painting the room or changing the flooring. You can also add statement pillows to older furniture pieces to give the furniture a new look. Don't be afraid to purchase statement pillows that showcase your personality and preferences.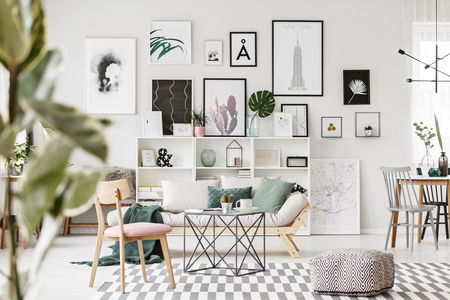 Add a Small Gallery
If you have a wall that feels plain, but you aren't sure what to fill it with, consider putting up a bit of a "mismatched" gallery. You can easily fill the walls with pictures of your loved ones and cherished memories. Purchase a number of frames that are corky, but somehow coincide with one another, and stagger them on the wall to fill the space. For instance, you could choose all wood frames, but they could all be a different type of wood.
Update Lighting Fixtures
Many people have overhead lights that they aren't happy with, but they eventually become "out of sight, out of mind." If you have a light fixture hanging above your head that you can't stand to look up at, consider replacing it. Although you might be used to the fixture, it's something that most people will notice upon walking in that don't see it daily. Updating a simple light fixture, even if it is just a hand-me-down lamp that you've grown tired of, can help a room feel brand new.
If you have a vision for your home, contact Sherwood Studios, we can help you make it into a reality. Visit our Pinterest page for more home inspiration and give us a call when you're ready to get started. Remember to check our blog frequently for other design tips and tricks to create your ideal living space! These simple suggestions should help you update the look of your home without totally redoing it all together. Before you get started, visit Sherwood Studios for fine furniture and interior design services.