Everyone wants a home that will impress their friends and family.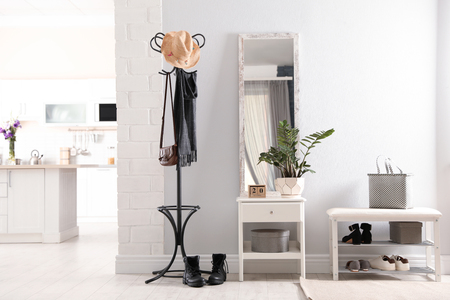 When it comes to decorating the home, most families focus their energy on rooms that see the most use (the living room, kitchen and dining room). But there is one easily forgotten space that can have the biggest impact on guests: The entryway.
The first area in your home that friends and family see when they arrive, your entryway should present a warm and welcoming atmosphere. Give guests a hint of your home's style while also offering plenty of room (and light) for them to take off coats and shoes.
Here are just a few tips on how to imbue your entryway with hospitality and style:
Incorporate Storage
Regardless of if your children are age eight or 18, it is a given that they will drop their backpacks, coats, and shoes at the door when they walk inside. Instead of looking on in frustration as all their stuff piles up, we recommend incorporating storage into your entryway. Hooks to hang coats and backpacks, a dresser to shore glove, hats, and scarves, and a rack for shoes will make your space an organized and welcoming one.
Take a Seat
Give your guests a place to sit down and take of their shoes when they arrive by adding a set of chairs or a bench to your entryway. For smaller spaces, we recommend finding a bench with storage to perform double-duty in your space.
Provide Plenty of Lighting
The first area of your home that visitors step foot into, your entryway should be filled with warm lighting that welcomes them in from the outdoors. If possible, we recommend adding a couple of different lighting options for your space. With a table lamp, wall scones and a hanging lantern or chandelier, you will be able to illuminate your space perfectly regardless of what time of day or night it is.
Make it Your Own
As you are choosing furnishings and decorative pieces to fill your entryway, pay attention to how they match the rest of your home's style. The first glimpse that guests get of your space, the entryway provides hints and clues to your interior design style.
With the right furnishings included, this space can be a beautiful transitionary area from the outdoors to the inside of your one-of-a-kind home.
Let it Flow
After you have created an inviting entryway you will need to expand that same inviting energy to the rest of your home. One of the most important rooms used to host guests in the living room. There are several ways to create a cozy living room. The best place to start is with seating. There are many different seating options to choose from but a staple in many living rooms are recliners. Choose a recliner you can truly relax in, complete with an adjustable ottoman to rest your feet.
We hope these simple tips will help create a more and inviting home that will impress your family and friends. Remember to check Sherwood Studios' blog for helpful interior design tips.
Whether you are looking for fine furnishings to fill your entryway or an experienced interior designer to help you bring your vision to life, Sherwood Studios can help. To get started on your entryway redesign, visit our West Bloomfield, Michigan showroom or give us a call at 248-855-1600.