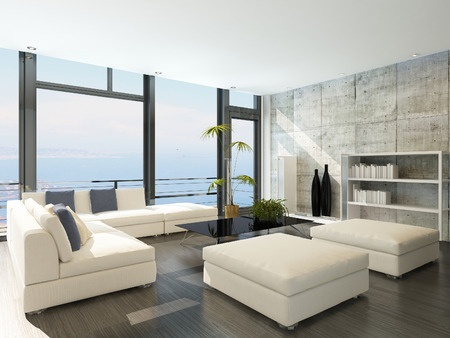 Regardless of the size of your home, extra storage space is always welcome – especially in the living room. The space where your family spends most of their time together, your living room is bound to become a catch-all for sweatshirts, magazines and more at one point or another.
If your living room has started to look cluttered, there are endless storage options to consider, including the simple and stylish ones listed below.
Fill Your Ottoman
Much more than just a place to put your feet up after a long day at work, your ottoman is the perfect spot to stuff your extra throw blankets and pillows.
It will take less than a minute to straighten up your living room with a good sized ottoman at your disposal. Just fold up the extra blanket draped across the couch, grab the newspaper lying on the coffee table and stash them inside.
Choose a TV Console with Closed Storage
Especially if you have an expansive collection of DVDs, Blu-ray discs and videogames, a TV console with closed storage is a must. Closed storage allows you to keep all of your electronics on hand (but out of sight) to give your space a sleek, clutter-free appearance.
Make Use of Built in Shelving
Living rooms with built-in shelves offer an extra opportunity for storage; all you have to do is cut down on your book collection. We recommend emptying off the bottom two shelves of your storage unit and purchasing baskets that match your home's aesthetic. Placed on the now-empty bottom shelves, these baskets serve as a storage spot for children's toys and games, remotes, extra batteries, personal documents and more.
Update Your Coffee Table
If you are struggling to keep the surface of your coffee table clutter-free, the simplest solution is picking out a new table that offers built-in storage of its own. Whether you replace your traditional coffee table with a beautiful antique trunk, pick out a table that has a lower-level shelf for storage or pull your ottoman in front of the couch, the options are endless nowadays.
For all your fine furniture needs and interior design assistance, Sherwood Studios is available. Located in West Bloomfield Michigan, we can help you to transform your home with simple storage solutions and high quality furnishings that will accentuate your personal style.
Begin shopping with us online or visit our showroom at 6644 Orchard Lane Road.
Source: http://www.houzz.com/ideabooks/65688522/list/13-stylish-storage-solutions-for-living-rooms