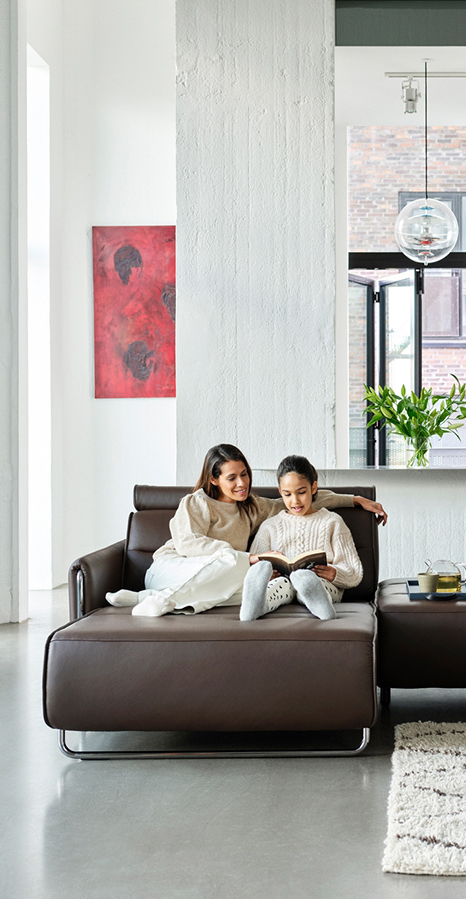 THERE'S NO COMFORT LIKE STRESSLESS® COMFORT.
In 1971, in a beautiful Norwegian community surrounded by deep fjords and majestic mountains, Stressless® introduced its very first recliner. The goal was to give people a place where they could take a break from their stressful lives and recharge their bodies and minds. Now, more than 50 years later, it's safe to say that objective was met. Stressless® seating, designed with a host of innovative comfort technologies, is now considered the most comfortable seating in the world. The expanded line of recliners, sofas, office chairs and dining chairs, like the company's first recliner, provides perfect support while replicating the body's every movement. Add in the ability to select among multiple recliner bases, recliner sizes and sofa configurations, and you get seating that fits your body and your home perfectly.
Want to elevate your home with Stressless® comfort for less this winter? Right now, go from one grade of Stressless® leather to a superior grade for FREE on any seating! Or receive $300 OFF Stressless® Classic Power™ recliners in any color or Stressless® Mike and Max motorized recliners in all Paloma leather colors – plus get a FREE battery with a value of $200! Or save $50 on each Stressless® Laurel and Mint chair (dining and home office) when you buy four or more.*
Stressless® offers four grades of leather – Batick, Cori, Paloma and Noblesse. All are selected from the finest tanneries around the world and keep with current laws and guidelines for animal welfare, health, safety and the environment.
Stressless Classic Power™ recliners and Stressless® Mike and Max recliners with  Power™ have built-in motors that allow you to adjust the head, leg, lumbar, and upper back  in one synchronized movement.
Stressless® dining chairs are available with and without armrests and have a flexible seat and back that follow and respond to the movements of your body to elevate your dining experience.your home perfectly."
Want to do good and save big this holiday season! Donate $50 or more to charity and get $200 off ANY Stressless® Mike and Max recliner in all Paloma leather colors, ANY Stressless® recliner and ottoman, ANY Stressless® Classic Power™ recliner or ANY Stressless® office chair. Or get $200 off EACH Stressless® sofa seat. Or get $400 off ALL Stressless® Mayfair recliners and ottomans in all Paloma leather colors.* Or save $50 on each Stressless® Laurel and Mint chair (dining and home office) when you buy four or more.*
Don't miss out! Save big now through March 13! | *With qualifying purchase. See store for details. | Valid January 20 – March 13