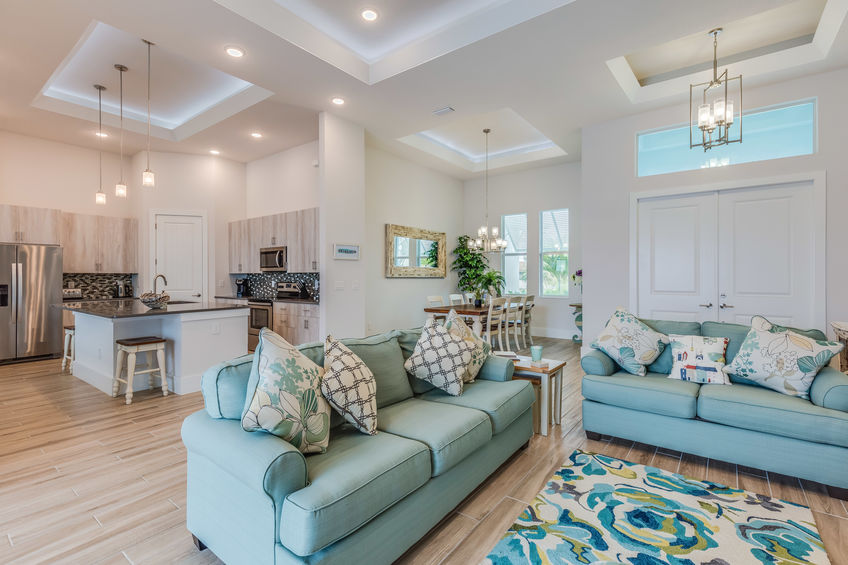 Open floor plans have reigned as one of the most desirable interior design features for several years now. It's not difficult to understand their appeal—an airy, spacious feel to your home, easy entertaining possibilities, a sense of togetherness with other household members without being on top of one another. Plus, their popularity has been given a considerable push by the HGTV reality show gurus who yield a strong influence over current and future trends.
But after a while (and recently thanks to the coronavirus-induced quarantine), some people have begun to see the disadvantages of an open floor concept. Whether you're starting to feel overwhelmed by all that open space, looking for some extra privacy, or just craving something new for your home, these tricks will help you break up that open floor plan and redefine your space!
1) Define areas with color.
Contrasting colors are a simple, yet effective way to separate areas within your open space. You'll still want to carry one shade throughout the whole space in order to maintain flow. But then you can get creative with one or two distinctive hues in each section. For example, try painting your kitchen baby blue, your living room a soft peach, and pulling a crisp white throughout them both.
2) Look to the ceiling.
A distinguishing feature or treatment on the ceiling can create a sense of separation between two adjacent open spaces. This could be something as simple as painting the ceiling over your living area a different color or using a different material for your kitchen ceiling. Or, you can install an architectural feature like beams or an archway. Even an ornate chandelier or unique lighting fixtures can be used to divide a ceiling to reflect separate spaces.
3) Ground different sections with area rugs.
Alternatively, you can create different zones in your open floor plan using the floor. Area rugs in particular are an easy way to differentiate between sections without disrupting the flow of the space with an abrupt physical barrier. Rugs also help to add texture, visual interest, and a cozy feel to a "room". Group furniture around your area rug to establish clearer boundaries.
4) Arrange furniture strategically.
Speaking of furniture, your furnishings are another effective tool for dividing an open concept into distinct sections. Furniture is what gives a room purpose, and thus can be used to define unique areas in an open plan by their function. Have furniture pieces intended for the same zone facing one another. Larger pieces, such as a couch, dining table, kitchen island, or bookshelf, can be especially useful for visually and literally separating different spaces.
5) Add a room divider.
Room dividers are great alternatives to the cost and permanence of building an actual wall to break up your open concept interior. They offer a degree of separation while still giving you the option to retain some of that inviting open feel. You can get a cute decorative folding screen, hang curtains from your ceiling, hang a chain or bead divider, or even install French doors. The best part of the room divider solution is that if you want your open concept back in the future or temporarily for entertaining guests, all you have to do is open or remove it.
The interior designers at Sherwood Studios can help you take control of your open floor plan and enjoy your space once again. Our design solutions are tailored to the needs of every individual client, no matter how minimal or extensive they might be.
To set up a consultation with one of our talented interior designers, visit our West Bloomfield studio or give us a call today!