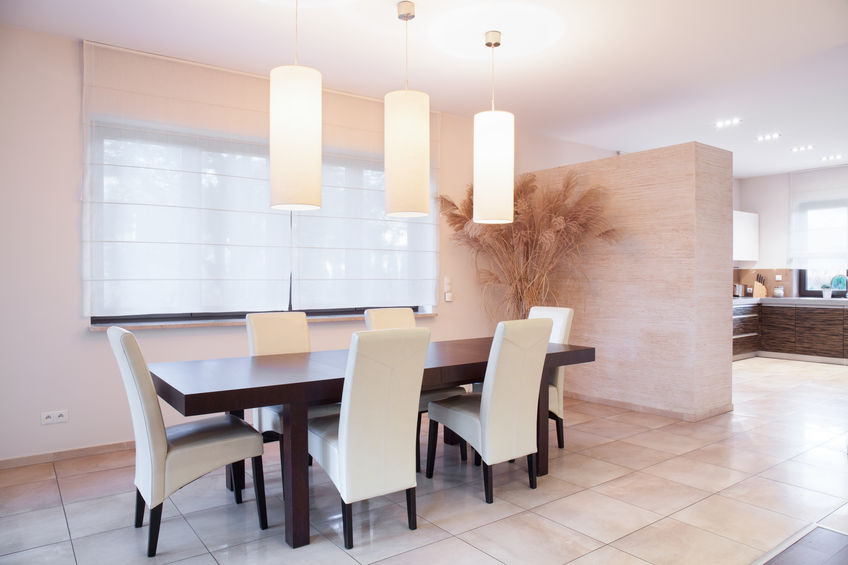 All the hard work and preparation that happens in your kitchen makes its way into the dining room. From full course meals to intimate family dinners, holidays, birthdays, and more, the dining room is where we bring people together.
It is important to have a cohesive and practical design that suits your family's aesthetic and caters to your guest's needs with such a high-traffic room.
Here are some common design mistakes to avoid when remodeling your dining room.
Oversized Table in a Small Room
You are limited by a strict set of dimensions when it comes to the size of your dining room. That is why design plays an important role in how your space will function. If you know you are working with a relatively small dining room, adding an oversized table is not practical. It will make the room feel cramped, and guests will not be able to comfortably move around the chairs. It is suggested to have a bare minimum of three feet from behind your chairs to your wall.
Uncomfortable Seating
If you want to host fabulous dinner parties or wine and cheese nights with friends, how do you expect them to stay and chat for hours while sitting on the world's most uncomfortable chair? It is easy to be fooled by stylish modern seating, but if you prioritize style over comfort, you're going to have a lot of empty seats at your next dinner party. A chair with an upholstered back and a fully upholstered seat is a great choice for guaranteed comfort.
Placing Light Fixtures Too High
A dining area is an intimate space, and you want the lighting to be about three feet above the tabletop or six feet off the floor. Light fixtures can be installed lower as they're above a table and no one walks under them. While a high-placed chandelier might seem elegant and expanding, it might leave your dinner plate in the dark.
Wrong Size Rug
A dining room rug should encompass all the furniture, including the chairs—even when people are sitting in them. As a general rule, add sixty inches to your table's length and width to find a rug that will comfortably accommodate all your dining chairs. Additionally, an indoor-outdoor polyester rug is a great choice for an area where food is served because it's easier to clean than a natural-fiber rug like wool.
A Cluttered Space
There is no need to showcase all your belongings in one space. This will give your room an overcrowded and unpleasant feel. A large empty surface, such as your dining room table, is an open invitation for piles of paperwork and junk mail. For a cohesive, clean-looking room, it is important to resist the urge to make your dining table a storage area for unwanted items.
Bare Walls
A mirror or piece of art can be the space's focal point to tie the room together in a small dining room. Mirrors make the space feel larger, but art can be just as wonderful and eye-catching. Make it a large statement piece instead of a cluster of multiple frames, and you're good to go. Even large dining rooms need art and a mirror if more than one wall is available. A mirror hung over a sideboard or console, with a large statement piece of art on an adjacent wall, gives the space a slightly more complete feel.
Whether you're doing a complete dining room remodel or simply switching out some furniture, Sherwood Studios can assist you. We offer complete dining room interior design services, so you can avoid making any common design mistakes in your space! We have a wide selection of dining room furniture and work with our clients to turn their dream room into a reality.
Contact us today at (248)855-1600 to learn more about your dining room design options.