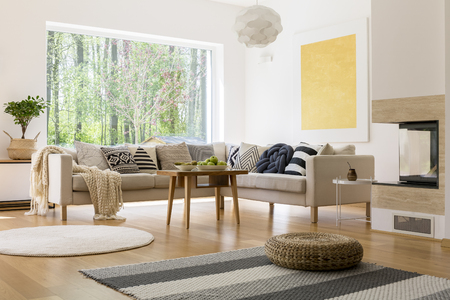 The focal point of your home, the living room is used for relaxing, watching television, playing with the kids and entertaining guests on a day to day basis. In a room where so much activity occurs, clutter is inevitable. But there are ways to keep messes to a minimum. Create a neat living room with advice from Sherwood Studios, Inc.
Before you can organize your living room, you must first establish what the goal is for the room. Do you entertain in your living room? Work in your living room, or simply enjoy relaxing there? Once you know what you want from the room, you can begin establishing the look and feel of the room.
Here are a few tips for creating a neater living room design:
Furniture with Storage
Tables with bi-level storage and ottomans with storage compartments are a couple of great ways to keep your living room organized. Keep extra blankets and remotes in the ottoman and magazines on the lower shelves of tables to reduce the buildup of everyday clutter. When the seasons change, you can store heavier blankets in Ziploc storage to make room for other items.
Make Space for the Items You Use Most
Whether you spend most of your time in the living room playing board games with the kids or knitting on the couch, find a place for your most-used items to keep them from cluttering the coffee table. Whether you designate an area on the bookshelf or place them inside a storage ottoman, this will make daily clean up easier and allow you to get to your supplies quickly.
Clean your coffee table
Over time, clutter may begin to accumulate on your coffee table, the kid's homework, junk mail, and old coffee mugs can make you forget what a clear table looks like. Try to find time to clear off the table and find a space for these items. Use a small box to organize our mail and recycle all junk mail and other useless papers.
Shelving
Instead of stocking your shelves with books, CDs and DVDs, consider trimming down your stacks to make room for storage bins and décor. Keep out your favorite books and those you often re-read, tucking the rest away in storage bins. Cutting down the size of your CD and DVD collection is even easier. Purchase a media binder or two instead of lining all the cases on your shelves. This additional space is the perfect place for artwork, photos, and other home accessories. You may also look into converting CDs, DVDs, and VHS into digital media. If you have access to a computer, you can easily convert this media and save it on a file on your computer. There are also companies that can turn your old VHS tapes into media files. You can also do this yourself.
More vertical storage
Most people have a variety of items they have accumulated over time that have begun taking up space across their living room. A better way to store these items may be to hang them instead. Items that can be hung include plants, bikes, photos, lighting options, and more!
Looking to update your living room furniture and décor? Contact Sherwood Studios, Inc. online or at 248-855-1600 for an interior design consultation or visit our contemporary furniture store at 6231 Orchard Lake Road in West Bloomfield, Michigan. In addition to providing high-quality furniture, Sherwood Studios also has a professional interior design team that can help you bring out the best qualities in your home from room to room. With options to make every room in your home come to life, Sherwood Studios accommodates all styles and visions.