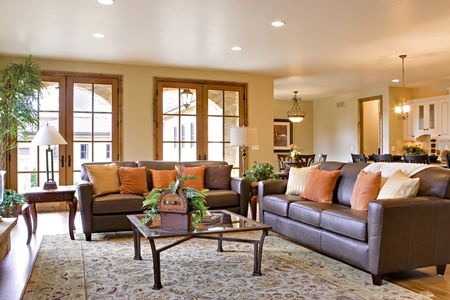 Warm in color and complementary to any style, hardwood floors are absolutely beautiful. But regardless of how much you love yours there is nothing quite as comfortable beneath your feet as a plush rug. Obviously you don't want to hide your rich hardwood under wall to wall carpeting, making an area rug the perfect compromise.
Whether you are looking to create segmentation in an open floor plan or add an extra touch of coziness to your bedroom, the right area rug will work wonders.
Size
Finding the perfect area rug is all about dimensions. The size and shape of your rug needs to fit the room it is in. Pick a rug that is too big and it will overpower the furniture and décor, choose one that's too small and it will not serve its purpose well.
This article from Houzz provides great sizing advice for rooms of all sizes and shapes.
Lifestyle & Location
The style of rug you choose depends greatly on where in your home it is located. Spaces like the dining room and entryway will always require a durable rug to keep spills and muddy footprints from staining. And for families with young children or pets, durability should be considered throughout the entirety of their space.
Color
Once you have decided what dimensions and fabric you prefer for your area rug, there is also color to consider. This will depend greatly on your interior design style.
Are you looking for a rug that makes a statement or one that serves as a backdrop for furniture and decorative items?
There are endless colors and patterns to choose from, just remember that the piece you choose will be with you for years to come. For individuals that are constantly changing and updating their home décor, we recommend choose a neutral hued rug with a simple pattern that will blend with your home's style no matter how often it changes.
Located in West Bloomfield, Michigan, Sherwood Studios offers fine furniture and interior design services for families looking to add warmth and comfort to their home environment. Visit us online to learn more about the furniture we sell and services we offer, or give us a call at 248-855-1600.