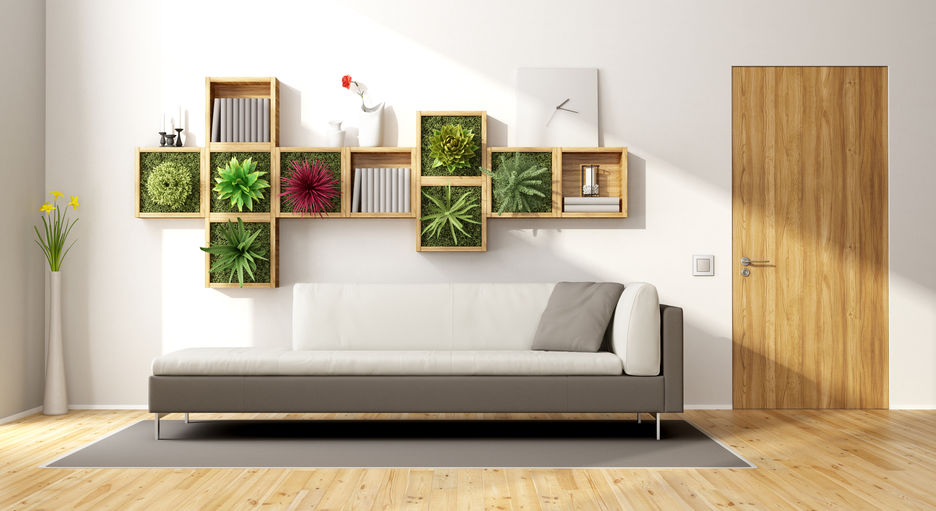 When it comes to livening up your space, what better way to do it than with actual living things? No, we're not telling you to adopt another dog—we're talking about plants! Live flowers and greenery have been on the upwards trend in the interior design world for the last few years with no signs of stopping. It's easy to see why. Plants are a quick way to add pops of bright color, install an earthy calmness, and bring fresh energy to your home.
You can't just pluck any old plant from your garden and plop it inside though. Successfully incorporating plant life in your space takes careful planning and forethought just like any interior design element. Don't worry though, we've got a few tips to help you pull it off!
Research before you buy.
Even though you're in a design mindset, it's important to remember that plants are living things that require care and maintenance to look their best. After all, even the most beautiful flowers or charming succulents won't do much to elevate your space if they're dead. That's why, before you head out to the nursery, you'll need to research which kind of plants will thrive in your home environment and which ones won't last. Consider factors like light conditions, humidity, room to grow, and the time and effort you're prepared to put forth to care for the plants you choose.
Think about the colors in your space.
Just like you would with any decorative accessory or furniture piece, you want to choose plants and blooms with colors that complement the existing colors in your space. Plants that fall within your interior color palette will help your space flow better and, if you choose complementary colors, make the rest of your design elements pop. You'll also want to be sure to select plant colors that work well with one another, so nothing clashes.
Pay attention to your planters too.
The pots and planters you use to hold your plants are an extra opportunity to enhance your design. If your space is mellow, choose planters with vibrant colors, bold patterns, and interesting shapes to serve as eye-catching accents. Or, if your space is already bold, go with classic and neutral planters to avoid clashing and keep the focus on the plants themselves. Have fun with your choices and try to incorporate your personal style.
Think beyond traditional potted plants.
You can't go wrong with a vase of flowers as a centerpiece or simple potted greenery on an end table. But don't be afraid to think outside of the box and get creative with your plant displays too. There are so many options these days—wall planters, hanging plants (great for small spaces), vines to wrap around furniture or décor, trees for the floor, plant carts, herb gardens, etc. These versatile display options also make it easy to incorporate plants and flowers in any room!
Try making plants a focal point.
One way you can approach plant life in your design is to plan your design around your plants, rather than the other way around. You can try putting blooms and greenery around the outskirts of the room as a sort of frame to soften the edges. Or, put all of your plants in one spot for a lively focal point that anchors the room. Making your plants the star of your space will bring the perfect balance of tranquility and organic energy.
If you don't have a green thumb, go artificial.
Nervous about your ability to be a good plant parent (or has history proven that gardening is not likely to be one of your future hobbies)? Don't worry—you can still enjoy the aesthetic benefits of flowers and greenery without the responsibility. Artificial plants can make your space look just as warm and inviting as their real-life counterparts. If you really want to sell it, you can even get a diffuser or two to get that refreshing flower or plant scent too. Another option is to incorporate images of flowers and greenery into your décor, fabric patterns, and other design elements.
To really make the most of your space and incorporate plants and other design elements for the greatest effect, your best bet is to work with a professional interior designer. At Sherwood Studios, our interior design services cover all rooms and all levels of intervention. Whether your space just needs a few finishing touches or a complete facelift, our designers are ready to take on the challenge.
Contact our studio today to set up a consultation!