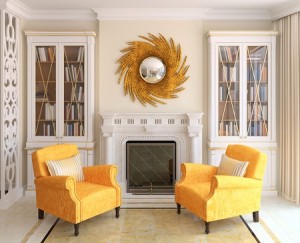 Why are mirrors sometimes known as a decorator's secret weapon? Done right, they can make a room look larger or brighter, frame views and add interest to any room.
Here's how to use mirrors in your home's design:
Let there be light
Placed next to or opposite a window, a mirror can amplify the natural light that fills a room. If you've got an extra-large space to illuminate, place a mirror next to the lamp or wall sconce. You can even bring the outdoors inside by arranging a mirror or group of mirrors opposite a picture window.
Center of attention
Use mirrors to create a focal point in a room. If you're not sure what to do with a blank wall, try putting a unique mirror there, like a sunburst or an antique mirror. You could even try hanging multiple mirrors of different sizes to create a one-of-a-kind arrangement.
Go big
Want to make a room look larger? Prop a mirror against the wall. This works particularly well with short passages you want to appear longer.
Now that you've learned how to use mirrors in your interior design, it's time to pick out some furniture to complete your vision. Check out the amazing selection at Sherwood Studios to find furniture that fits your unique style and complements your décor. Prefer to let a pro do the designing? We offer full interior design services to any homeowner. Contact us today to learn more.