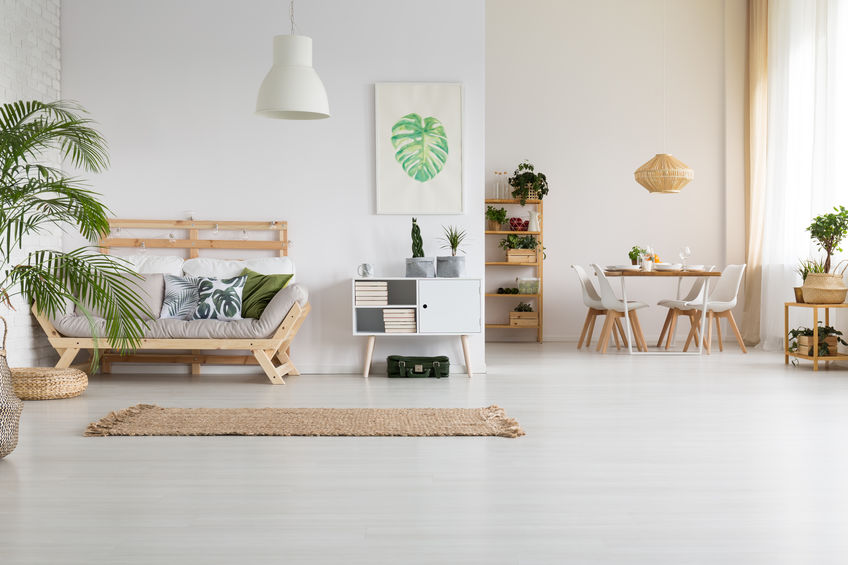 The farmhouse style is a longtime interior design staple. Rooted in the original design of many American homes, people are drawn to the simple pastoral charm and homey feel of the farm life. But that doesn't mean they want to come home to a space that feels like they've walked through a time machine and back into the 19th century. So, how do we bridge the gap between countryside comfort and modern taste? Modern farmhouse style!
The modern farmhouse interior offers a contemporary twist on the cozy appeal of the classic farmhouse look. If you want to pull off this warm, but sophisticated style in your home, there are a few staple elements you'll need to incorporate.
Neutral Color Palette
Neutral colors are a fundamental aspect of modern design, but they also help achieve the natural feel of a farmhouse space. If you want to go heavier on farmhouse comfort, choose warm neutrals like earthy browns and sandy beiges. If you prefer to emphasize the modern component of your look, lean more on cool neutrals like grays or even pale blues. For the walls, white-washed is usually the best way to go. This neutral palette will serve as the perfect backdrop for vintage farmhouse pieces, through which you can incorporate pops of accent colors.
Wooden Accents
There is no farmhouse style, modern or otherwise, without wood. Wood pieces, tones, and finishes are crucial to getting that signature rustic farmhouse look. There are plenty of opportunities to implement wood in your design—furniture, flooring, décor. For the modern farmhouse, featuring pieces made of reclaimed wood is a great way to put a contemporary twist on rustic warmth. If you live in a home with wooden architectural elements, such as exposed beams or hardwood floors, style your space in a way that makes them a focal point.
Natural Materials
Classic farmhouse style is heavily inspired by nature. Along with wood, the use of other natural materials and fibers will help to bring that organic element into your space. Rattan, wool, and linen are characteristic of traditional farmhouse, while materials such as leather, bamboo, and even faux fur can infuse a touch of modernity. These materials don't have to be overwhelming. A simple wool rug in the bedroom, wicker baskets for coffee table storage, or even a leather accent chair can be enough to bring the outdoors in. Organic, nature-inspired materials will also add texture and visual depth that helps bring your look to life.
Industrial Metallics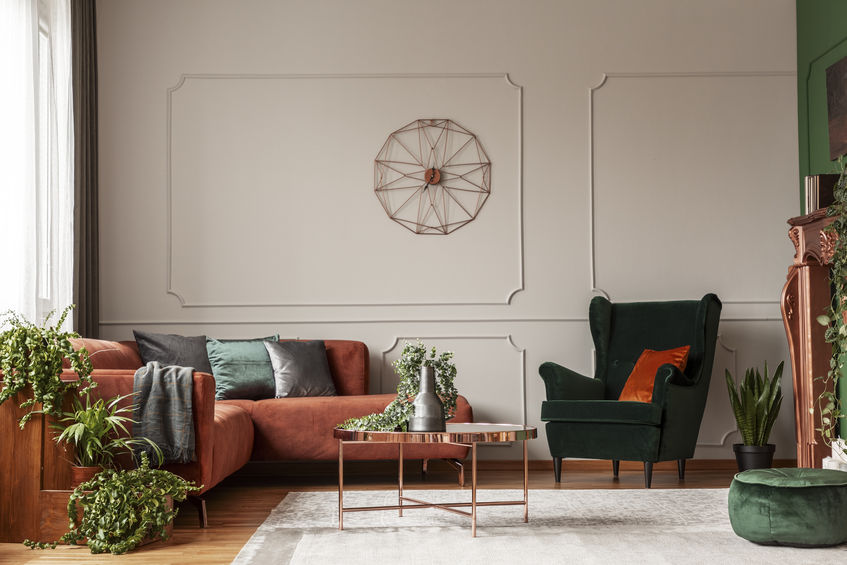 Metal-based décor and finishes act as both a nod to modern cities and original farmhouse structures. Industrial accents, such as wrought-iron drawer handles or iron light fixtures, are reminiscent of farm machinery but still in line with current trends in interior design.
Metallic finishes are also a good option for updating the industrial farm look, but avoid anything too glossy that would look out of place in a countryside home. Look for metallic and industrial-inspired pieces that are also functional, as most decorative items in a classic farmhouse home serve a purpose as well.
Mixed Furniture
Farmhouse furniture, and décor for that matter, should look like a carefully curated collection, not a boxed set. Mix and match your furniture and accessories for a cozy, but elegant look that balances rustic and modern elements. Furniture should have clean and simple lines that reflect both the traditional farmhouse architectural style and modern penchant for minimalism. You'll see a lot of antique pieces in a farmhouse space for this reason—to get that unique, vintage feel. Just make sure everything still works together, so it doesn't end up looking like a cluttered mashup of random items.
It can be tough to find the right balance between modern flair and rustic simplicity when it comes to implementing the modern farmhouse look in your space. If you find yourself struggling to pull it off, get in touch with the interior design team at Sherwood Studios!
We offer professional interior design services for the entire home, whether it's just one room you want to tackle or every nook and cranny. We also have a wide selection of furniture and home accents for all different styles to help fill out your space with those fundamental pieces and finishing touches you need to bring it all together.
Give us a call at 248-855-1600 today to discuss creating the home interior of your dreams!