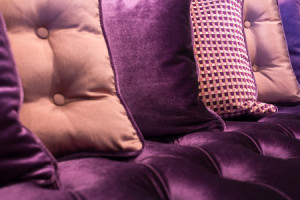 The new year is a perfect time to give your home an of-the-moment, stylish look. Whether you're planning to sell your home in 2018 or just want to refresh your space, an interior design update is a great way to start off the year. Read on to learn more about some of the top interior design trends for 2018.
Lavender accents
Love it or hate it, 2017 was all about millennial pink. In 2018, shades of lavender and lilac will predominate, giving homes a calming, relaxed vibe. Try accent pillows or rugs in the on-trend shade.
Maximalism
After years of the less-is-more aesthetic, in 2018, more is more! Try mixing bold, contrasting patterns. Consider it the backlash to the pared-down look.
Back to nature
Natural materials will be huge in 2018. In a reflection of the locavore, farm-to-table trend in food, which shows no sign of disappearing any time soon, interior designers and architects are seeking materials that reflects an area's geography and landscape. One example of this trend is using limestone walls in bathrooms, or using furniture made from locally sourced wood.
Velvet
You may have noticed velvet dresses, pants and accessories on the 2018 runways, and now the trend is coming to interior design. Velvet sofas and armchairs, whether vintage or newly upholstered, are having their moment.
If you've decided to update your home for 2018, a professional interior designer can make sure your space is inviting, comfortable and stylish. If you're in the West Bloomfield area, we look forward to creating a space you'll look forward to living in every day! Contact Sherwood Studios today at 248-855-1600.