Whether you are moving into a new home or are looking to redefine the style of your current space, there are many advantages to working with an interior designer to do so. An interior designer can do so much more than tell you what paint colors work best together; they can work with you to develop a style that weaves harmoniously through each and every space in your home. Interior designers specialize in creating beautiful spaces cultivated with your personal style in mind. In order to understand what kind of décor will work.
Of course, there are a few things that your interior designer will need to know about your family and your home before they get started and thinking about these questions ahead of time will help to ensure your home is renovated and styled to perfection.
What Elements are a Must?
Are there any design elements or themes that you absolutely need included in your home re-design. Maybe it is modern artwork or Victorian style antiques. This can help establish a theme and create a design plan that flows from one room to the next.
What are Your Color Likes and Dislikes?
Before your interior designer gets to work choosing the new paint colors for your walls and picking out signature furniture pieces and accents to decorate your home, it is important to let them know what colors you like. Do you prefer grays and blues? Or do you like beiges and browns?
This differentiation will help your interior designer to hone in on your style and help them to choose the right pieces to fill your space.
Don't forget to mention if there are any colors you absolutely wouldn't want to see inside of your home. While we do think it's best to keep an open mind when working with a professional, it is also good to let them know if there is anything you just couldn't live with.
How Would You Describe Your Interior Design Style?
Another important thought to consider is how you would describe your style. What design trends appeal to you and which do you dislike?
While your interior designer will be able to get a feel for your style when they visit your home, it is always good to describe your style in your own words, as it will give them a better feel for your needs.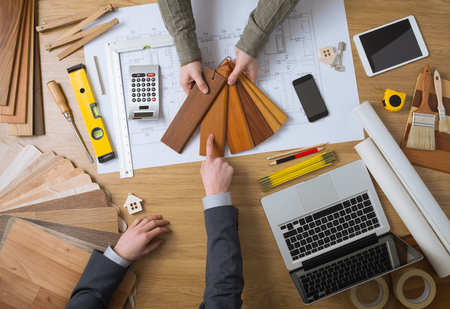 How Do You Like to Spend Your Time at Home?
Don't forget to give your interior designer an insight into your life, letting them know a little bit about how you like to spend your time at home. Maybe you are an avid reader who will need extra lighting next to your bed and in the living room. Or you love to bake and will need extra storage space throughout your kitchen for supplies and kitchen gadgets.
Whatever you love, be sure to mention this to the interior designer you work with so that they are able to consider your unique needs while re-designing your home.
Now that you are ready to redefine your home's style with the help of an interior designer, it's time to call Sherwood Studios. With a showroom located in West Bloomfield, our interior design team can help you turn your dream home into a reality. Let us design a space you absolutely love!
Sherwood Studios offers professional interior design services which include furniture design, window treatments, floor coverings, fabric selections, custom fixtures and more! Contact us today to set up a consultation with our professional interior designers! Check out our furniture selection to browse our stylish yet functional sofas and sectionals.