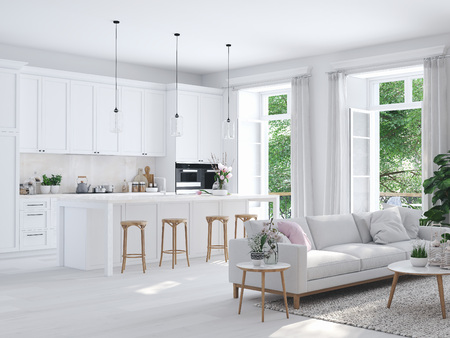 With spring right around the corner, now is the perfect time to brighten up your home with fresh, easy changes. Let's emphasize easy because we know you'll want to devote most of your time with friends, family and enjoying the outdoors as much as you can.
When trying to shift into the new season, refer to these three easy tips:
Hints of Green
Adding green to your home is the simplest and easiest way to make your home feel fresh this spring. If green isn't typically a color you prefer, worry not. Instead, you can incorporate a few houseplants! Buying a eucalyptus branch and putting it into a simple glass vase can transform a space in an instant. Succulents are also a good choice to help add a little life to your home. These plants are very popular because they are low maintenance, only having to water them about once a week. Here are a few more plants to check out for those who don't have a "green thumb".
Woven and wicker
You'll suddenly feel "spring ready" after adding woven-like textures to your home. Whether it be rocking chairs on your front porch or rattan chairs in your sunroom. Woven or wicker textures work really well with potted flowers or plants. Before you know it, you'll have a blooming garden look inside of your house.
Linen
A great way to freshen up a space for spring is to put white linen slipcovers on your furniture. This adds a casual elegance to the room and will look excellent with woven or wicker material and vibrant plants. If you're looking for a more colorful spring look, throw a batik hand-blocked print over your kitchen or dining room table
Now that you've brought the outside in with plants, wicker and homespun linen, you're ready to kick start the spring with your first gathering showcasing your simple and fresh indoor changes. If you're looking to redecorate your home for the spring and want to go beyond these simple revisions, contact Sherwood Studios today.
Sherwood Studios offers professional interior design services which include furniture design, window treatments, floor coverings, fabric selections, custom fixtures and more! Contact us today to set up a consultation with our professional interior designers!