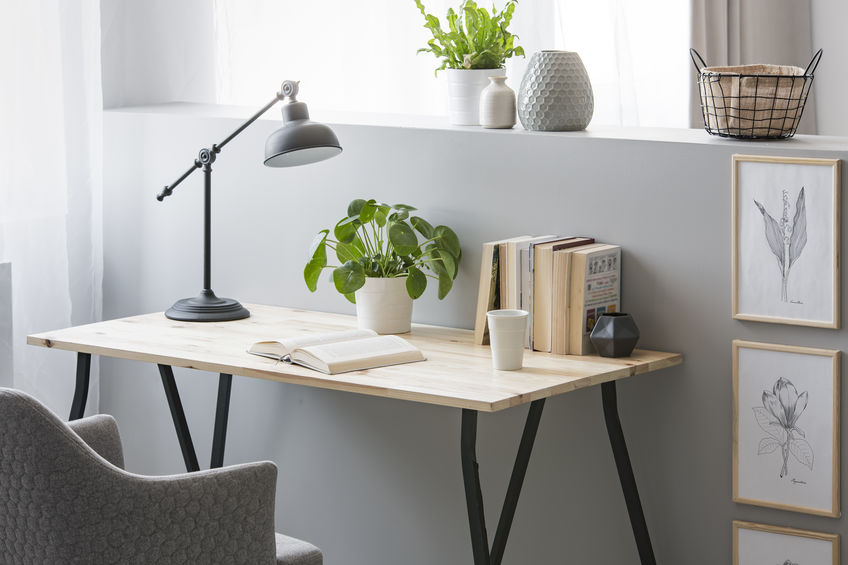 Advancements in technology and recent events have made working from home a normal part of many people's lives. Whether you now work from home on a full-time basis or just a few days a week, having a quiet space where you can focus on work duties can be extremely beneficial to your at-home productivity.
If you've been on the couch or in your bedroom since you made the switch to working from home, it's probably about time you made the addition of a home office. You'll not only create that professional feel you've been missing, but you can add comfort and style to your workday with a few of these home-office essentials!
1) Stylish & Practical Desk
For many, the right desk is the most important part of a home office. It is where you get the bulk of your work done and a space that can house all of your must-haves, such as a laptop, monitor, notebook, lamp and more.
Though you need a desk that can hold all of your work belongings, it's also important to consider how it flows with the rest of your space. If you have a smaller workspace, it is best to go with a desk that takes up less room and allows for the use of other things like comfy chairs or bookshelves.
2) Comfortable & Supportive Chair
Another must-have when working from home, a comfortable and supportive chair will give you the flexibility you need to get things done while also protecting your health. An office chair that swivels or rolls will allow for the free movement you need to reach important documents, books and more without having to get up out of your seat. Many chairs can also be raised or lowered based on your needs, which can do wonders for your neck and back.
If you have experienced back pain from a chair in the past, consider a more supportive swivel or armchair that promotes good posture as you work throughout the day. For those who want to take their workspace to the next level, consider adding an extra armchair, or even a smaller sofa, so you can be joined by a "work buddy" (two or four-legged) from time to time. 
3) Eco-Friendly Lamp
No matter if you're an early riser that starts work before the sun comes up, or you do your best work late at night, an eco-friendly lamp will allow you to be productive at any hour of the day. With this type of lamp, you'll get a soft, warm glow and won't have to worry about it being on for long periods of time, as it won't take up as much energy as a standard lamp would.
If you're adding a lamp to your space, we again suggest thinking of the area in which you'll be working. Desk and floor lamps each provide plenty of light, so it really comes down to your individual need or taste.
4) Bold Bookshelf
Adding a bookshelf to your office may seem more like an extra than an essential, but when you consider the many benefits it provides, you'll most likely want one for your space.
A bookshelf will not only store books that are important to your profession, but it can also be a great design piece to house your favorite sculptures, photos, memorabilia and more. It can show people what you're all about, add a little excitement to the room, and serve as a great background piece for those pesky video conferences you attend. Consider adding a bookshelf with a bold design that matches the other pieces of furniture in your office to create that truly one-of-a-kind space.
When you're ready to make the investment in a new home office, or want to add flare to your current space, think of our team at Sherwood Studios. We'll be happy to handle your West Bloomfield home office design and furniture needs, including everything from desks to chairs, cabinets, sofas, lamps, bookshelves and more.
Call us today at 248-855-1600 to get started!