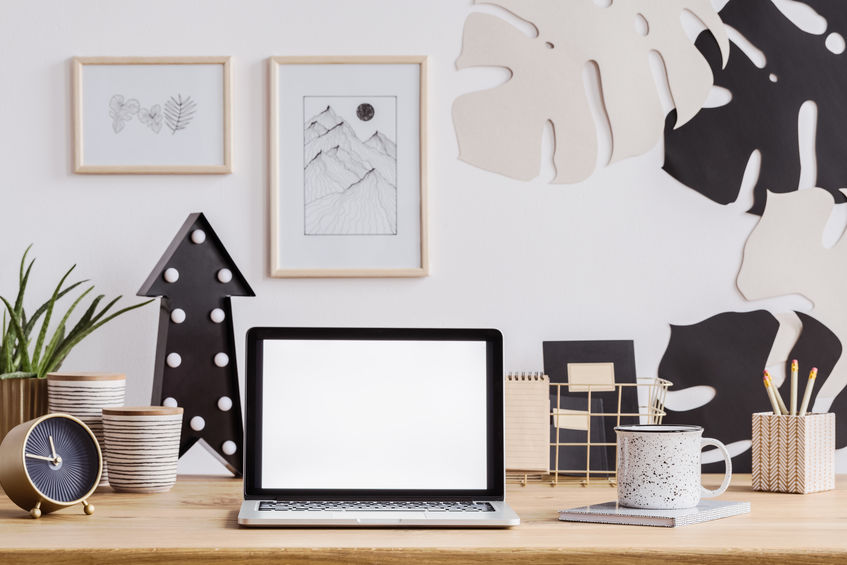 There are a lot of advantages to working from home, as many of us have learned over the last year. The commute is convenient, you get to customize your work environment, and the dress code is comfy and cozy. That's not to say, however, that there are not certain challenges to working in the same place where you sleep, eat, relax, and go about your normal non-work life.
The key to overcoming the potential distractions that come with working remotely is to cultivate a space where you can stay focused. To help you out, we've got a few interior design tips for making your home office as productive of a space as possible!
Choose the right color palette.
The colors around you have a strong influence on your emotions, mindset, and workflow. With this in mind, it's important to consider which colors and their effects will create the type of environment you need to be the most productive in your home office.
Green, for example, is a color that energizes and stimulates creativity. Whereas red is more of a power color, which is better for promoting productivity in certain roles. Blue and purple can be great to de-stress and help you focus.
Set yourself up to stay organized.
Clutter and mess in your workspace will be distracting and can cause anxiety. To keep your office functional and conducive to getting work done, organization is key. Start with your desk surface. Limit the items you keep on your desk to those you use the most—computer, notebook, pens, essential documents, etc.
Surround yourself with adequate storage solutions to house the rest of the supplies you'll need regularly. File cabinets, desk drawers, bookcases, and wall shelving are top options to consider. Also, don't forget that small storage tools, like a pen cup or a desk paper tray, are just important as larger ones.
Add some greenery.
Incorporating plants and flowers into your home office will add some life and fresh air to a stale work area. The colorful leaves and blooms will provide visual variety to make your space more attractive and give your eyes a break from the computer.
The presence of plants also has a calming effect, which can help reduce stress throughout the workday. Just be sure to get plants and/or flowers that will thrive in the conditions of your office (light vs. shady, humid vs. dry, etc.).
Select quality ergonomic furniture.
Sitting at a desk all day can really wear on your body. To combat these unpleasant effects, you need to furnish your work-from-home space with high-quality office furniture designed to keep you comfortable. Most importantly, choose a chair that is comfortable and provides support. Look for something with good cushion, arm rests, and an adjustable height and back.
Along with a good chair, consider furnishing your office with other ergonomic support accessories as well. A foot rest, wrist cushion, and ergonomic mouse, for instance, will make a big difference day after day.
Combine natural, ambient, and task lighting.
Just like color, lighting affects your mood, which in turn impacts productivity. Natural light is by far the best option, if available. Take measures to maximize natural light in your home office, such as using light window treatments, opening blinds and curtains, and decorating with a few reflective surfaces to help bounce the light around.
If you don't have access to natural light in your work-from-home space or need to supplement it, install overhead or recessed lighting, as well as floor and desk lamps. Stick with cool wattages (rather than warm yellow light) to help you stay focused and provide optimal visibility.
Working from home full-time probably doesn't leave you with a lot of extra time to worry about your interior design. The interior design team at Sherwood Studios can help solve that problem by creating the perfect home office for your work needs and style preferences! We also have a large supply of top-quality home office furniture in our showroom to help you furnish your workspace comfortably and stylishly.
Get in touch with us today to start the process of making your dream home office a reality!