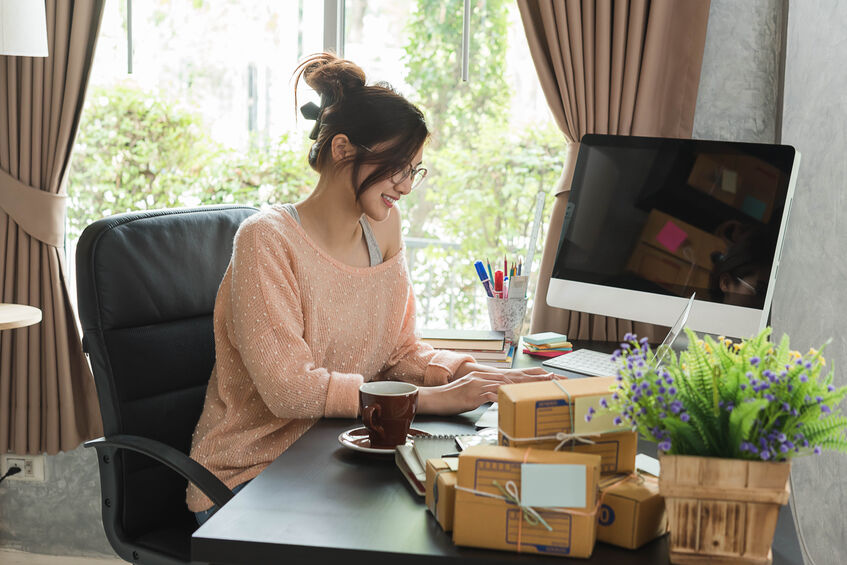 Working from home has become the new normal for many employed people. Our home office workspaces have quickly become the place in our home where we spend the most time. To ensure your space is working as hard and efficiently as you are, it's important to design your office with a few key principles in mind.
Here are a few helpful design tips to help you achieve a functional and aesthetically pleasing home office layout.
A Properly Placed Desk
The desk is the most important feature of any home office, but putting it in the wrong spot can hinder your productivity. Placing it at a bad angle to the window can create screen glare, your back to the door can cause stress, and facing a wall can be uninspiring. The best place to put your desk is a section of the room where your back can be facing a wall while still having a view of the door, but not directly in front of it.
It is recommended to place your work desk as close to natural light as possible. Some people like to face the window, but this can become too distracting. If you can't handle a front row window seat, turning your desk perpendicular to it can give you the natural light you desire without the complete distraction. If the most productive placement puts the window behind you, meaning light will hit your monitor, add window treatments to block the glare.
Layered Lighting
Although natural lighting is great for productivity in your workspace, you can't always rely on it to be there for you. It is important to place various artificial lighting options in your space strategically. Recessed lighting in the ceiling with dimmers for ambient light and task lighting over desk and seating areas are great ways to incorporate necessary artificial light. You cannot just rely on overhead lighting. It is much better for your eyes if you have a table or floor lamp close by as well. Not only will these help you see your screen more clearly, but there are many stylish options to choose from that can spice up the look of your office.
A Multipurpose Seating Area
Seating beyond your own desk chair is crucial to a home office setup. Whether you must meet with clients or the inevitable family member that wanders in, a bench or a table with chairs is necessary. Create a small seating area for guests and company to separate your personal workspace from meetings and nonwork-related discussions.
An Office Space for Two
If you share your home office with a spouse or coworker, it is important to section off your space. Try dividing the room with an oversized built-in desk, with his-and-her sides. Design your individual section the way you like it with custom storage and a comfortable desk chair. When designing an office for two people, style is just as important as function, as one person's aesthetic could be distracting or off-putting for the other.
Built-In Storage
When crafting your perfect office space, built-in storage is a must. You don't want every item on display, from printers to extra monitors and a plethora of chords. A wall of built-in bookshelves and cabinetry or large drawers under your desk space can easily hide Wi-Fi boxes and office supplies. Open shelving can also provide an opportunity for you to show off your personal style with beloved books, photos, and artwork.
At Sherwood Studios, we have the home office essentials you need to complete your workspace. Our home office design team has the tools and knowledge to craft an amazing office for you or your loved one. We cover all the elements needed to design your dream office, from window treatments to floor plans.
Call us today at (248)855-1600 to learn more about our home office interior design services!