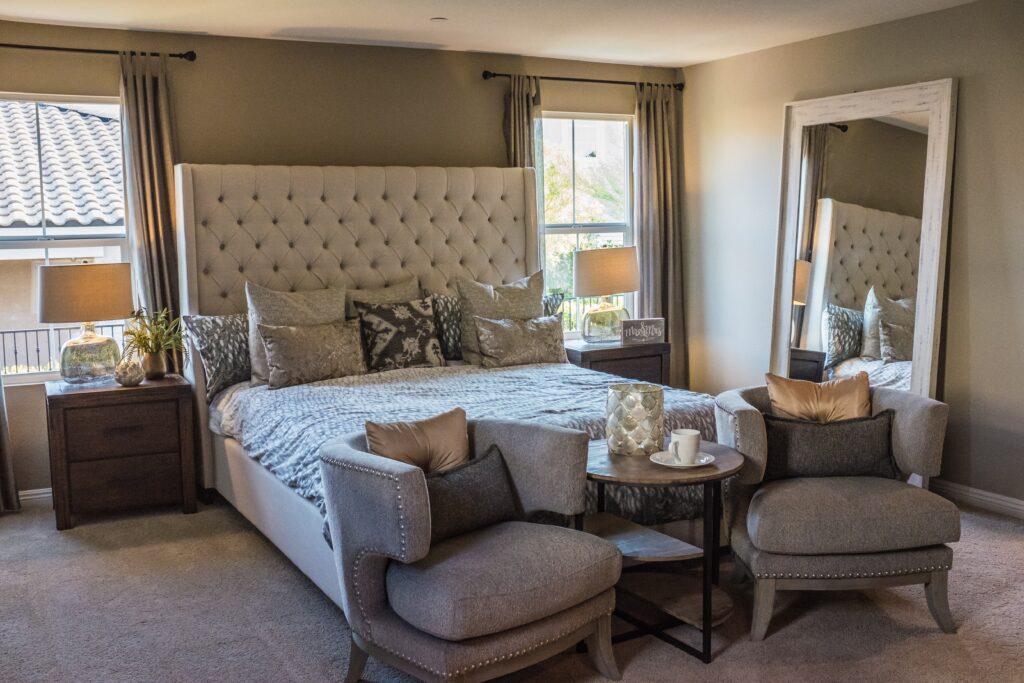 Your bedroom should be a space you look forward to spending time in. Bedrooms should be comfortable, serene, and relaxing. It is important to match your room with your personal style while making it functional, starting with choosing the right furniture and décor!
When you think of bedroom furniture, you likely think of a mattress, nightstand, and dresser. However, a bedroom can offer so much more than the basics.
Here are a few furniture pieces to consider when designing your bedroom space!
Ottomans
An ottoman can serve as a multi-purpose piece in a bedroom. The inside of an ottoman can serve as storage which allows you to hide blankets, throw pillows, or store extra linens. The outside of an ottoman provides a comfortable seat where you can sit to put on socks or shoes. They are also very decorative and can provide a bedroom with a soft splash of color and practicality.
Lights
A bedroom should be a space that helps you wind down from a long day, and the light source in your bedroom plays a big role in that. It would help if you filled your bedroom with accent lamps, which can serve as a decoration and a soft light source. A fluorescent overhead light will keep you wide awake if you are getting ready to turn in for the evening. A soft light from a lamp will help you relax and can be turned on or off easily from the comfort of your bed.
Chairs
Your bed should not be the only place you have to sit in your bedroom. Putting an inviting chair in your bedroom gives you a place to rest or read without getting into bed. Many sleep experts say that you should not watch TV, use your phone, or read a book in bed because your bed should be associated with falling asleep.
Vanity
If you have a large enough bedroom, fill that extra space with a vanity. A vanity can provide storage if it has drawers and can easily store and hide items you don't want sitting out. It can also hold hair products or other personal grooming items, providing you with space to do your makeup and skincare!
For more bedroom design advice, reach out to Sherwood Furniture. Our professional interior design services can help you transform any room in your home into your dream space. From picking out the right high-end furniture to arranging it accordingly so it highlights the best features of your home, we guarantee you will be happy with the end result.
Browse our furniture online and call us at (245)855-1600 to learn more about our unique services!