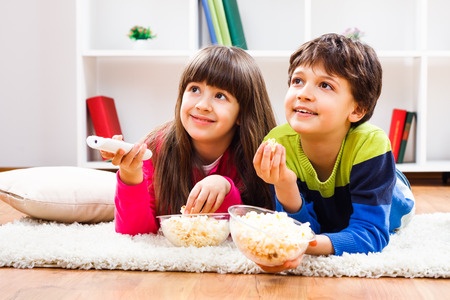 We all want to boast a beautiful living room. After all, it should be the one room in your home where you can relax with your family, enjoy your favorite television show after a busy workday, and entertain guests. It shouldn't be the one room in your home that lacks style, organization or upkeep. And just because you have children, doesn't mean your living room – or the rest of your home for that matter – has to lack style. There are plenty of ways to make your living room look elegant and clean, while also making it kid-friendly and safe.
Here are some tips to help you maintain a clutter-free, organized and visually appealing living room, no matter how young your children may be.
Find the Right Paint
Fingerprints, markers, crayons and other imperfections can make your walls look dirty and unmaintained, which can take away from the overall beauty of your living space. Once the marks are on the wall, there's no going back – unless you paint your walls with a washable paint sheen! Colors in eggshell, satin or semi-gloss are all great options for families with young children, as imperfections can be washed away easily with soap and water.
Don't feel limited to traditional paint options either. Chalkboard, magnetic, and dry erase paints are all wonderful accent wall options that take the cake for being parent and living room approved. In fact, you'll want your kids to draw as much as they want on the walls coated in one of these fun and family-oriented options!
Protect Your Furniture
Kids are always jumping around on the furniture, and if they aren't doing that, they're either eating or drinking on them. To ensure your furniture investments are protected and maintain their like-new appearance for a long time, take advantage of couch and chair covers. These slip-covers are easy to take on and off, and they're even washable. Use them to cover your furniture during play dates, and then whisk them off with ease before your dinner party.
Another family-friendly furniture option is leather. Both durable and comfortable, leather furniture is less likely to reveal stains, spills and other imperfections than fabric is.
Choose the Right Flooring
When you have young children, spills, dirt, allergens and crumbs can easily accumulate and make your floors look downright dirty. Make sure you install floors that are easy to maintain and clean up should your son spill his glass of orange juice everywhere. Durable, stain resistant carpeting is also a wonderful way to cover your gorgeous hardwood floors until your kids are a bit older. Plush and warm, carpeting can also protect your kids from bumps and bruises should they fall.
For families looking for fine furnishings and interior design assistance in the West Bloomfield, Michigan area, Sherwood Studios is here to help. Visit our showroom at 6231 Orchard Lake Road or give us a call at 248-855-1600 to get started on your living room upgrade!
Source: http://www.homestoriesatoz.com/decorating/5-ways-to-create-a-kid-friendly-family-room.html